You know what they say? Knowledge is power – but only if you use it right and keep it organized 😉. So, in this edition, we will explore the incredible value of knowledge as a business asset and share our practical tips for getting started with documentation. Let's jump in and discover the magic of organized knowledge!
Here's the deal – building a company knowledge base isn't just a fancy option; it's an absolute necessity. When you document your knowledge, it's like giving your company superpowers! It not only boosts company culture but also brings consistency to all aspects of your business.
Plus, according to Tim Murphy, it's a fantastic way to preserve precious knowledge. Imagine having a superstar employee who's been with your company for 5-10 years. If you haven't created a culture of documentation, when that employee decides to move on, all their valuable knowledge goes with them! Talk about a knowledge black hole. That's why we're big fans of DOCUMENTING EVERYTHING, and our weapon of choice is Notion! 💪
Let's dive into why we love it! 😌
Notion is like our trusty sidekick; it allows us to design and organize our knowledge how we want it. We built a centralized wikis database in our company workspace to store all our precious info — from company policies, how-to guides, and standard operating procedures to project documentation.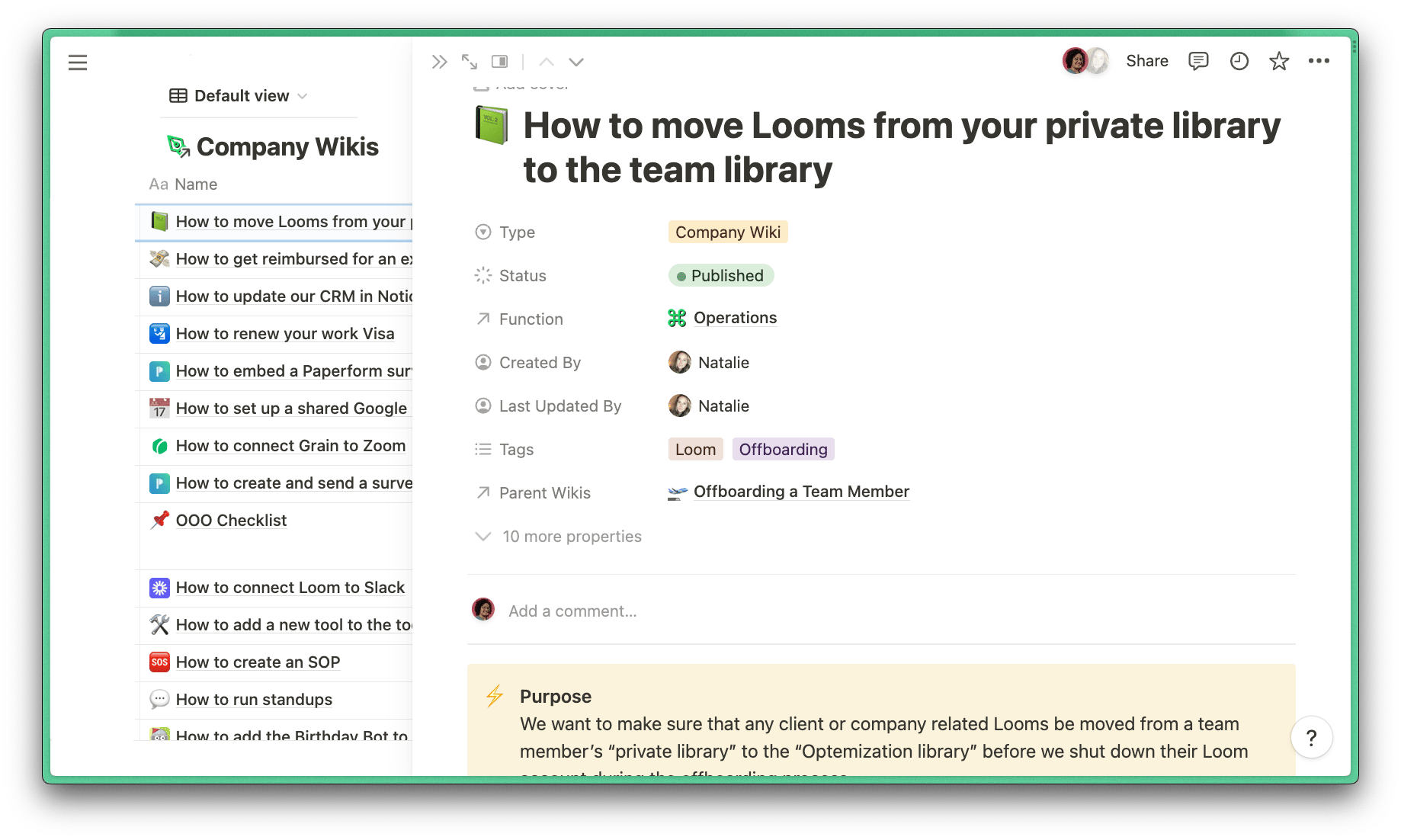 We use Notion's database properties and filters to sort and organize our knowledge so it's easy to retrieve. We use the multi-select property to tag documents into various categories, the database relations property to keep things tidy by department, and the select property to easily classify documents – like how-to guides, SOPs, and whatnot.

It's not just about making it look pretty, though! Using these properties adds more context to our documents, making it incredibly functional, so finding the right stuff is a breeze! 🚀
We've set up templates to help our team members quickly document, categorize, and maintain a consistent layout for each document type.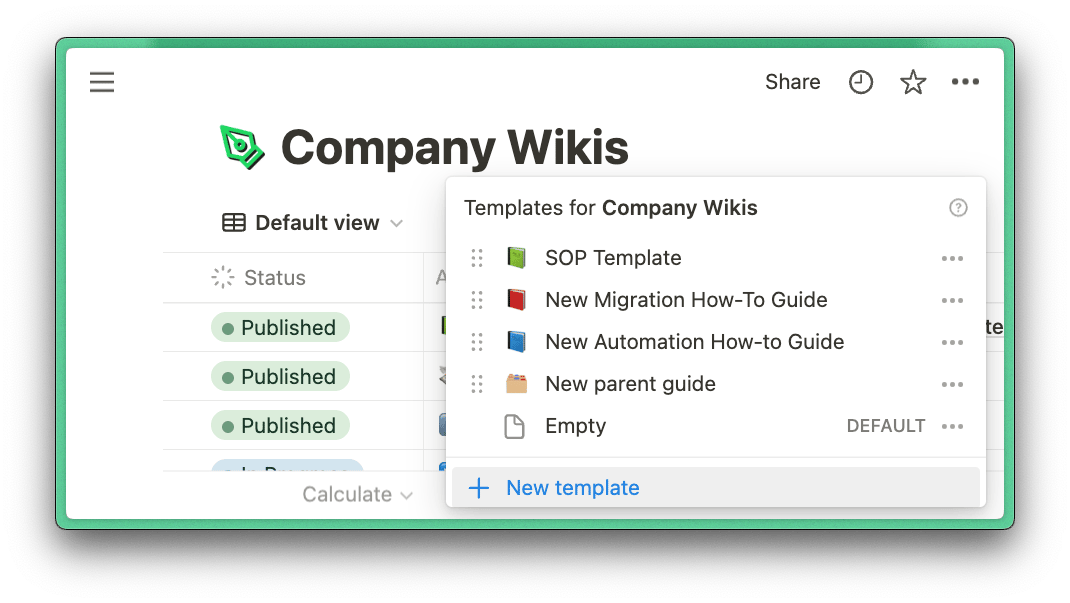 Now it's time to take action! 💥
How to get started with documentation ✍️
If you still need to build out your company's knowledge base, then there's no time like the present. Here's how you can get started:
First, you'll need a place to hold all your company's knowledge. As we've mentioned above, we use and highly recommend Notion.

Now you'll want to jot down a list of everything you do in your typical workday or questions that others ask you (e.g., "How do I [fill in the blank]?")

From that list, you'll want to identify the processes you do regularly that are essential to your job and questions you get asked often, so you can begin documenting them. 

For example, a Human Resources manager may create a document for their team on "How to request PTO" (a question they get asked a lot) or "How to onboard a new employee" (an essential function of their job).

In the document, it's helpful to include the purpose, terms and definitions, the trigger, and concise step-by-step instructions, along with screenshots, animated gifs, or short video clips (depending on its complexity).

Once it's complete, you can have another teammate who's unfamiliar with the process complete it (to verify its accuracy).

Note: You did a great job if they could complete the task without asking for clarification. If there's any ambiguity, you'll need to refine further and clarify.

Now you'll want each department in your company to do the same.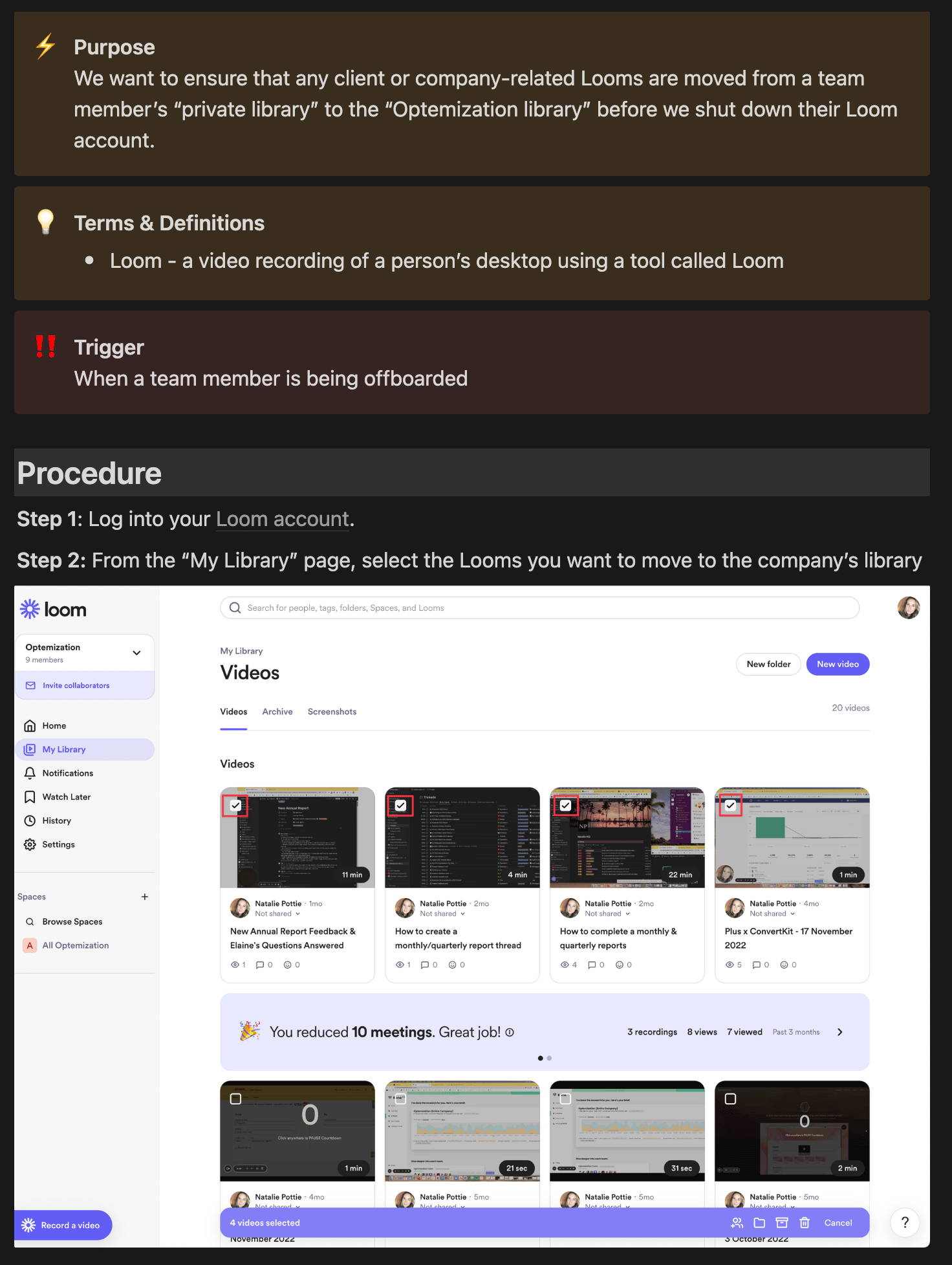 The ultimate goal of your documentation is for anyone (without prior knowledge) to perform a task without any help. It's also important to remember that your knowledge base is never "done." You'll always be adding, archiving, or updating it over time. So make sure you set a schedule (such as every quarter) to review and update your docs since they tend to change over time.
Remember, knowledge is the fuel that drives your business forward, so it's essential that you start documenting everything so that you can get all that valuable knowledge out of your brain and onto paper — or, better yet, in Notion!
Tools insight
Did you know that Notion's Wikis database has a powerful property called Verification, which enables you to schedule specific updates for pages? This property ensures you receive a helpful reminder when the scheduled time arrives, allowing you to update the relevant pages requiring regular attention. By utilizing this feature, you can ensure that your documentation remains up-to-date.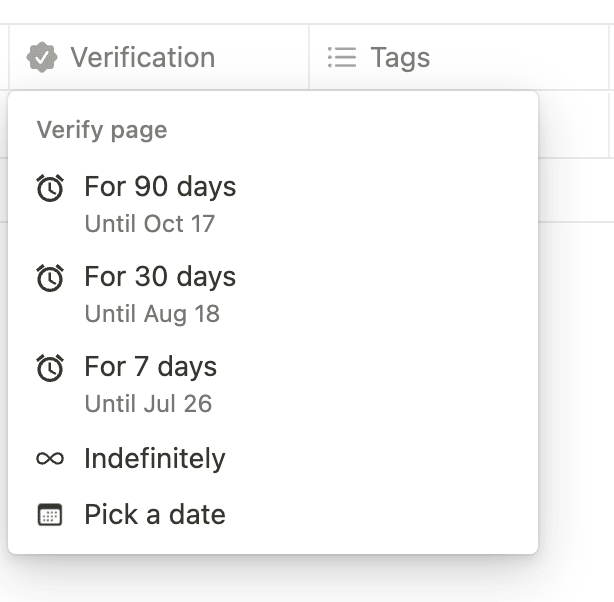 Productivity inspo