Hey there! This week, we're talking all about buttons 🔘 Notion just rolled out some exciting updates to their button feature, and we're here to give you the lowdown.
Getting a button up and running in Notion is a breeze. Head over to the page where you want the button and type "/button" — Voila!
As you scroll down from the button, you'll discover a world of possibilities when you click on it.
Incorporate step-by-step guidance for users to follow through a series of actions.

Add various blocks: Callouts, quotes, headings, dividers, images, videos, embeds, and more.

Include pages in a database: Add pages to a selected database.

Edit pages within a database: Make edits to pages in the selected database.

Prompt confirmation: Provide users with a small confirmation screen when they click the button.

Open a page: Instantly access a chosen page.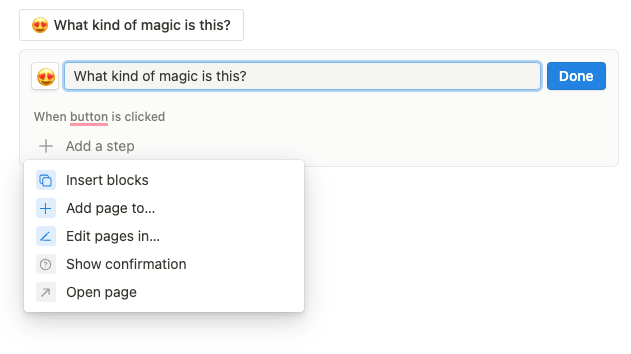 In a recent update this week, Notion addressed the most sought-after request following the introduction of buttons: the ability to apply templates.
Imagine placing a report button on your operations or development department dashboard. When clicked, this button automatically applies a specific template in a database dedicated to reporting issues or offering feedback.
Here are a few other use cases on how you can implement buttons
Meetings: use buttons to seamlessly integrate a meeting agenda template into any page, ensuring a structured approach to your meetings.
Task coordination: use buttons to add new tasks to your task database, complete with predetermined attributes for streamlined task management.
Sales streamlining: use buttons to inject new sales opportunities into your sales database, streamlining the process of tracking potential sales and leads.
Notion's new button update opens up so many possibilities for streamlining workflows within your workspace. What are you most excited to create? Reply back to this email and let us know!
Productivity inspo