This week's newsletter is all about Notion AI and how it can come in handy when you or your team hit a wall. We'll chat about the practical ways Notion AI seamlessly integrates into team workflows, smoothing out obstacles and nurturing collective creativity.
Summarizes informationPicture this scenario: your team has just concluded an intensive brainstorming session, a research expedition, or a comprehensive project discussion. Now, the challenge lies in distilling the essential insights for effective communication. Enter Notion AI, your team's content ally. By analyzing and extracting key points, it effortlessly transforms intricate information into concise summaries. This function empowers your team to convey complex ideas with clarity and efficiency.
Brainstorms new ideasCreativity thrives on collaboration, but occasional roadblocks are inevitable. Notion AI steps in as your team's creative catalyst. Imagine a scenario where your team is seeking innovative names for a new product or brainstorming ideas for an upcoming event. With a simple prompt, the AI generates a diverse array of ideas.

Corrects spelling and grammarClear communication is vital, and your team's professionalism hinges on accuracy. Say goodbye to grammar errors and typos – Notion AI can become your team's diligent proofreader. Whether your team is finalizing project reports, perfecting marketing content, or communicating with stakeholders, the AI's meticulous review ensures content emerges polished and professional.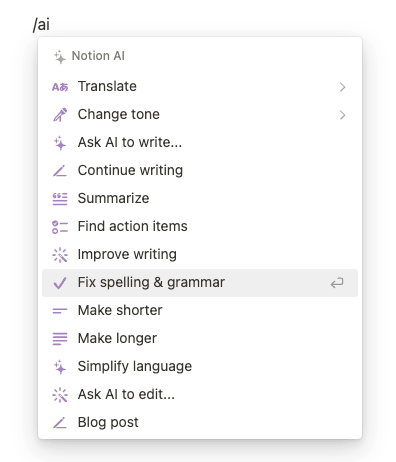 Translates copy into other languagesTeams are often composed of diverse individuals, and effective communication transcends linguistic barriers. Notion AI bridges this gap, enabling seamless translation of content. Imagine effortlessly translating your team's ideas into various languages, fostering clear communication and unity within your multilingual team.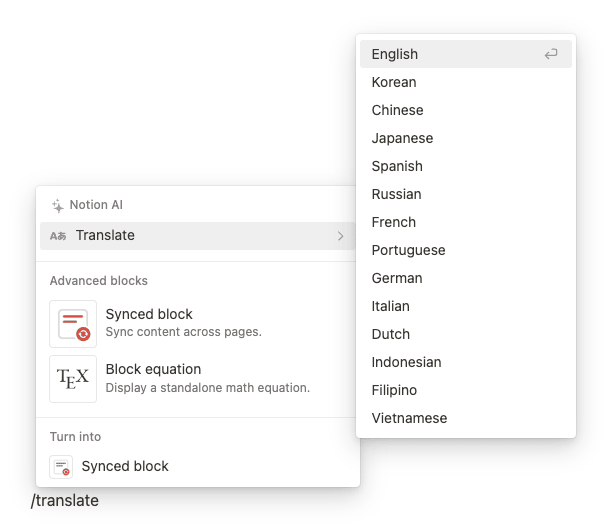 As you can see, there are multiple ways for you and your team to utilize Notion AI. By simplifying tasks and nurturing effective communication, it empowers your team to bring ideas to life. Have you considered using Notion AI in any of the ways we've described? Or are you using it for something else? Reply back and let us know — we'd love to hear how you're using Notion AI.
Productivity inspo