Welcome back to our weekly newsletter!
Last time, we talked about the critical role of knowledge in powering up your company's success. Today, we're diving even deeper into knowledge management by exploring database properties and how they play a vital role in your database views and filters in Notion. 😉
Some may find the idea of consolidating everything in one database overwhelming, but rest assured; it's not about information overload – it's about creating efficient systems that work smarter, not harder. Let's get started.
Ah, database properties – those little gems that wield immense power in shaping how you filter and organize your data down the road. But hold your horses! 😤 Let's not get carried away and add random properties just for the thrill. We've learned from experience that each property should have a clear purpose, and we need to consider why we're creating it.
Having too many properties can be overwhelming for your team (and yes, we've been down that chaotic road before 🌀). So, let's keep it practical and purposeful, shall we? A well-thought-out set of properties can work wonders in streamlining your knowledge management, making it a breeze for everyone involved.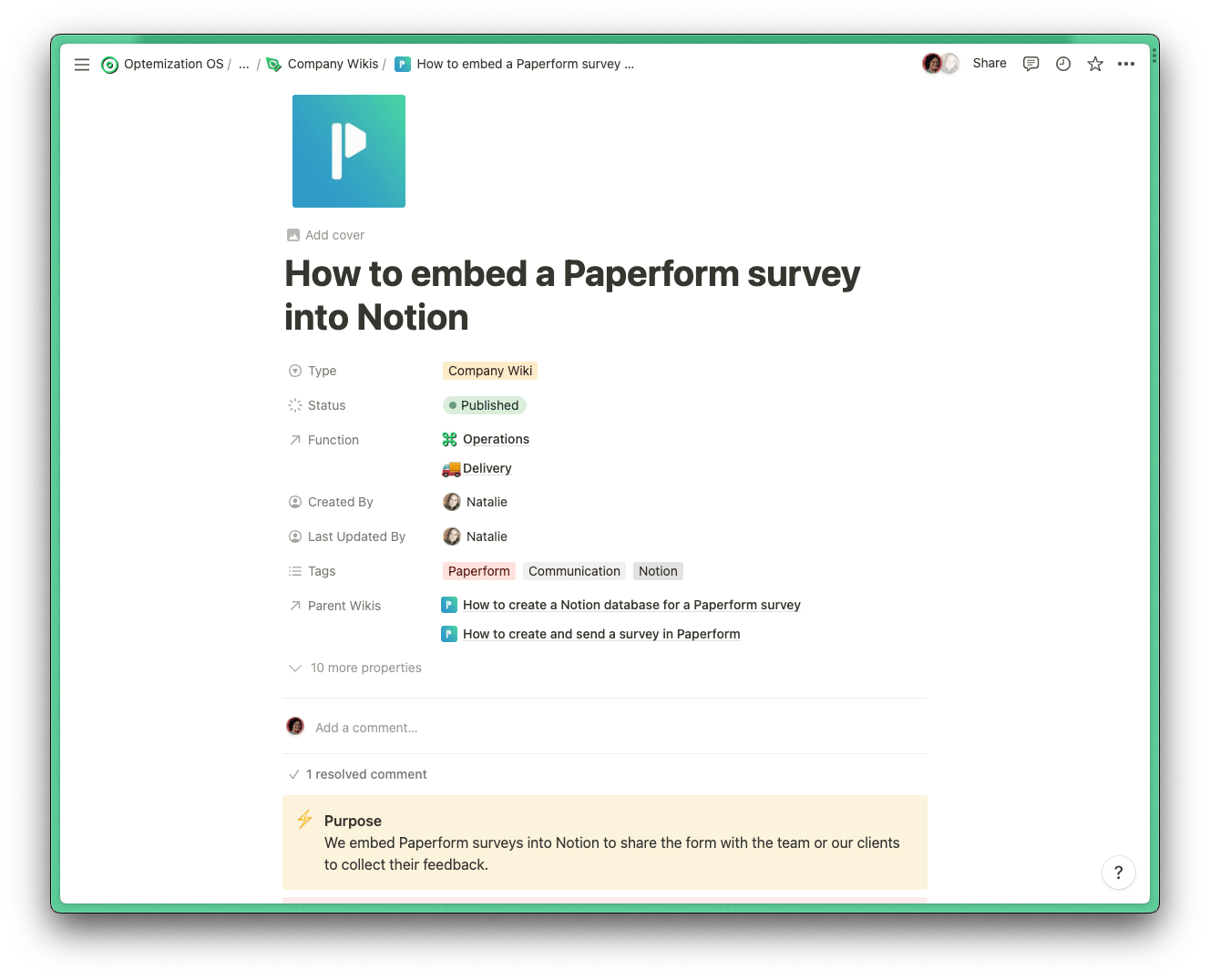 Over at our Notion workspace, we've set up a fantastic wiki database. To make this happen, we put a lot of thought into the properties we needed. Here are a few of them:
Type

: By categorizing documents based on their types (a select property), we can quickly and easily switch between various views. This feature proves invaluable when team members need to access specific sets of information, such as company wikis, automation documentation, service-related wikis, or best practices. It ensures that the correct information is readily available at their fingertips.

Status

: This property comes to the rescue when we want to filter out documents that are still a work in progress or currently being updated. We want our team members to have access only to the complete and updated stuff, right? Right! 🧐

Function

: Ah, this one is the secret sauce! With the database relation property "Function," we've set up database views for each department. That way, every team can focus on relevant information to their work.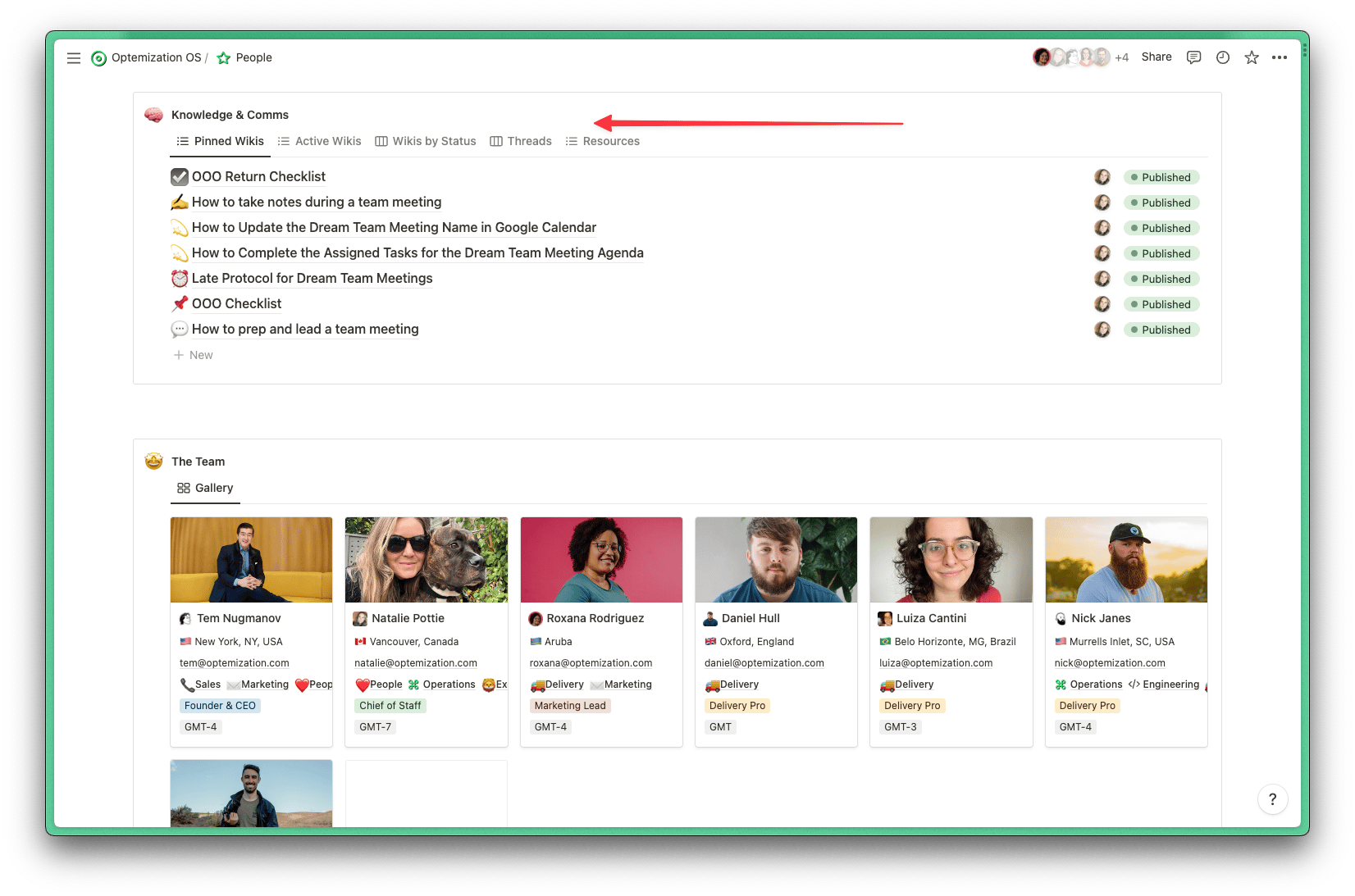 Tags

: Think of "Tags" (a multi-select property) as your trusty helpers for fine-tuning your searches. They add that extra layer of organization, making finding documents that might fit into multiple categories or topics easier.

Parent

: Another relation property, this time named "Parent," helps us link related documents. It's like giving our team members a roadmap to navigate interconnected information.
As we mentioned at the beginning, taking a thoughtful approach to creating these properties is vital. We should steer clear of overloading the database with an excessive number of properties. Instead, each property should have a clear purpose, working harmoniously to enhance the knowledge management's overall efficiency and effectiveness. Too many properties could confuse your team members and make it challenging to maintain consistency.
Tools insight
When setting up a select property in Notion with multiple options right from the start, there's a nifty trick you should consider. First, create the property as a text field, then list all the options you want to include. Afterward, simply convert the text field into a select property. This little trick will save you valuable time, so you won't have to add each option individually. Efficiency at its finest! ☺️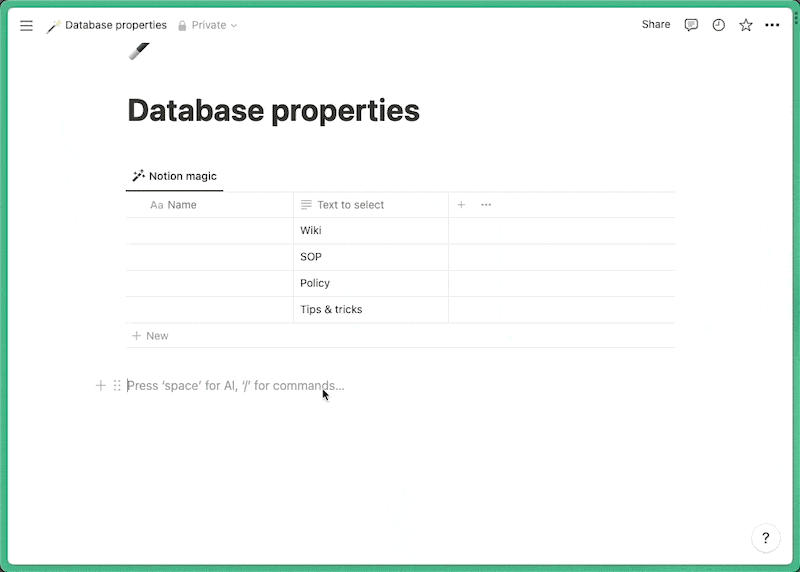 Productivity inspo