Hello there, fellow knowledge seekers! ✨
In our last couple of newsletters, we've delved into the importance of documenting your company knowledge and why a carefully constructed set of database properties is central to organizing it. Today, we'll go over the power of linked databases and filters in Notion. So buckle up and get ready for a knowledge-rich journey! 🚀
Linked databases are where Notion truly shines. Utilizing this Notion "block" feature allows you to consolidate your company's knowledge into a single, centralized database. This approach effectively addresses scattered knowledge among departmental databases, commonly known as "information silos." 👀
Consider building a single, comprehensive wiki database that can be linked throughout your entire workspace — this is what we did in our Notion workspace. By utilizing Notion's filters, we were able to customize our wiki database so that only relevant information was visible on each department's dashboard.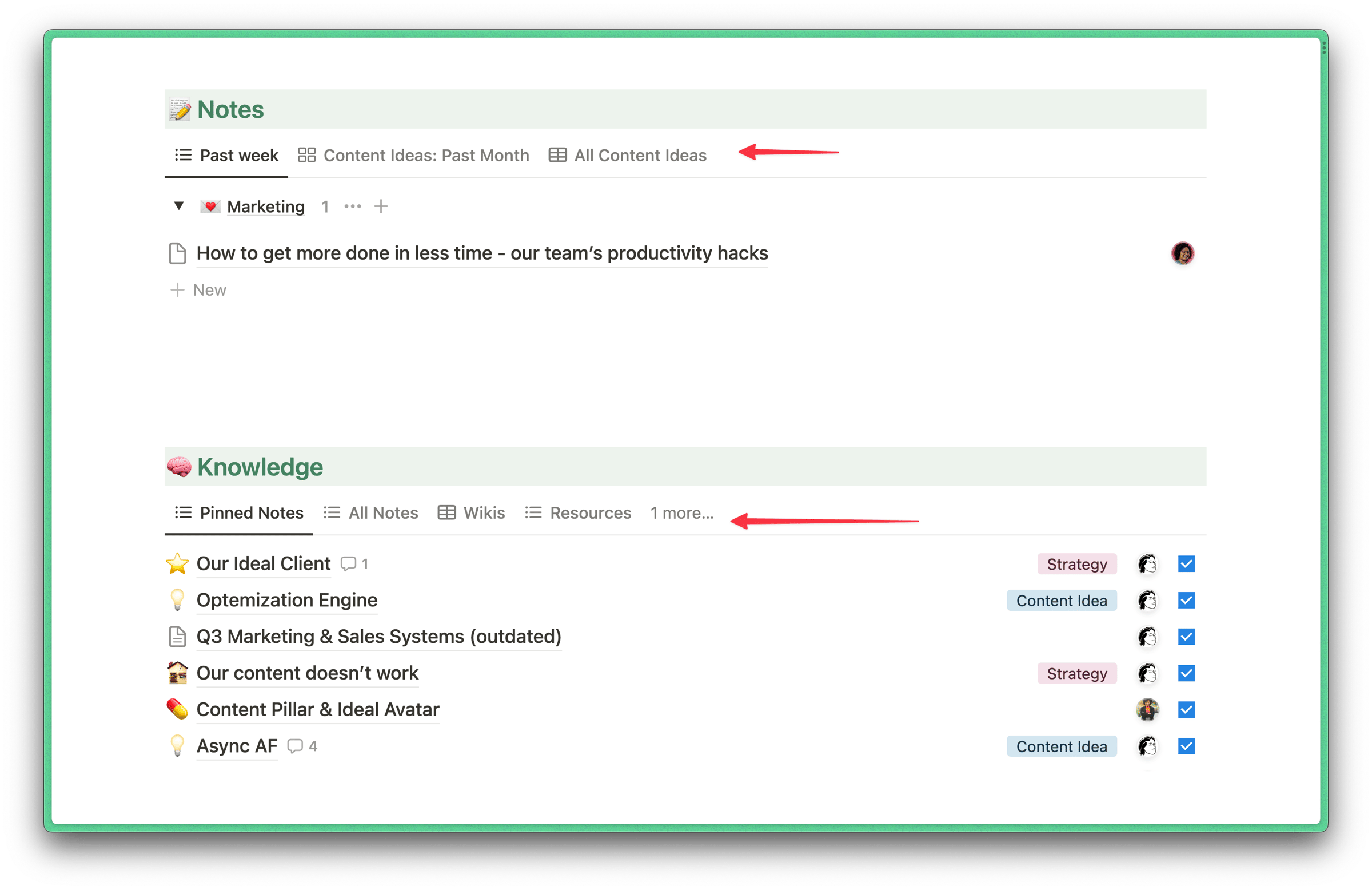 For example, by creating personalized views, your marketing team won't have to sift through technical documentation relevant to the engineering department or vice versa — the result: a well-documented, organized, and incredibly efficient knowledge base.
Here's a simple step-by-step guide to set this up:
Create your wiki database:

 This will serve as the hub of all your knowledge. Populate it with vital information and documentation.

Designate properties:

 As discussed in our previous newsletters, properties such as "department," "owner," "tags," "status," and "type" are crucial for efficient filtering.

Link the databases:

 On each department's page, link to your central database. Here's where the fun begins. You can apply filters to each linked database so only information relevant to that department is displayed.

Personalize views:

 For more granular control, create custom views that show specific documents, such as those that an employee has created or owns.

Verification property:

 For documents such as standard operation procedures (SOPs) that should be reviewed regularly, you can utilize Notion's new "verification" feature to schedule reminders to review and update your documentation.
Remember, the ultimate goal is not just knowledge accumulation but creating an accessible, functional hub of easily retrievable information that drives the company's operations and empowers your team.
Tool insights
Let's take a closer look at Notion's filters, particularly the "Person" property filter.
Here's a useful trick — when filtering the "Person" property, if you set it to the "Me" option instead of a specific individual, it adapts the database view to the person looking at it, meaning you only see pages related to you. It's like having a personalized browsing experience!
Also, having a "Me" filter is much cleaner and more efficient for managing your database views. You don't have to create separate views for each person, which can get overwhelming and cluttered, especially when dealing with multiple users.
Here are the steps to create this filter:
Open your Notion workspace and navigate to the page containing the database you want to filter.

Click on the three-dot menu (ellipsis) in the top right corner of the database.

From the dropdown menu, select "Filter."

Now, you'll see a filtering panel appear above the database. Look for the "Assigned to" or "Name" property (depending on how your database is set up).

If you select "Me" from the "Assigned to" dropdown, now you'll only see the entries assigned to you. Other people viewing the database will only see what's assigned to them.
Remember to save your filter settings after selecting the desired option.
Productivity inspo